Visual AID Pillow Project with Rex Ray, Annie Sprinkle, Daniel Goldstein and more
December 15, 2012
The Visual AID Pillows Project offers a curated collection of limited edition pillows developed to support Bay Area artists facing life-threatening illness. With art from myself, Rex Ray, Peter Max Lawrence, Annie Sprinkle, Daniel Goldstein and more, the Pillow Project advances the local efforts of Visual AID, which for 25 years has been an integral part of San Francisco's network of activism.
Inspired by my Italian installation Traversata: Le mie conversazioni col Fiume Arno, my pillows offer a place to rest your head and imagine what ever crossings are in your future.  With all proceeds going to Visual AID, you can comfortably surround yourself with art while you support their vital mission. These pillows make wonderful house-warming, birthday, holiday or just-because presents.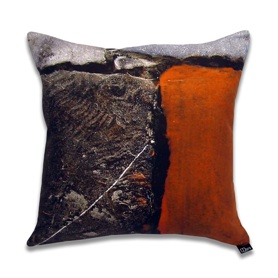 Artists are the shamen, the oracles, the prophets and the muses of our secular culture. They allow us to ponder our past. They provoke our present. And they offer architectures for our future. The work of Visual AID is to preserve the artist and their offerings. Please help.